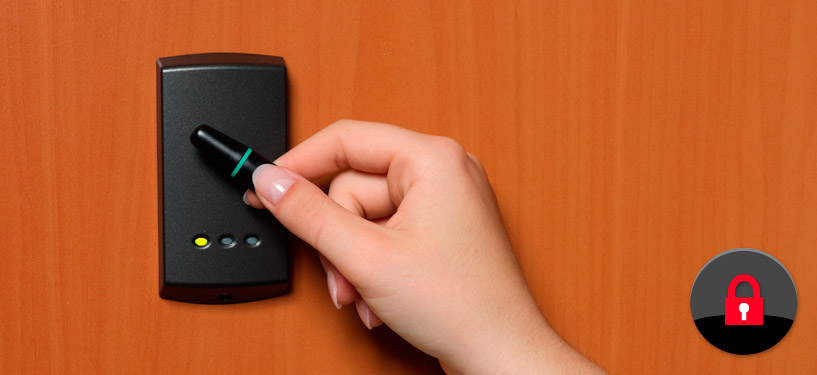 At Cityfire & Electrical we supply, install and maintain a variety of advanced access control systems to businesses across Birmingham and the West Midlands. As an independent business, our specialists offer impartial advice about the best type of system for your premises. We have a wide variety of systems available, from keypads and fingerprint recognition to retinal scans and secure combined systems.
Customisable access for complete security
Each access control network can be tailored to your specific requirements, with levels of access for different parts of the building if required, and a hierarchy of security clearances. Access control systems can be used as a stand-alone security measure or in conjunction with supplementary security systems – including CCTV, panic alarms, asset tracking, and burglar/intruder alarms.
Installing an access control system is surprisingly fast, with minimal disruption to your business. We also provide repair and maintenance services for most access systems, with a 24/7 staffed service desk and rapid callout times.
Types of access control system
There are several types of access control devices to select from:
Numerical keypads: The most widely used access device, these keypads can be quickly fitted to doorways and storage areas, and require the user to enter a pin code to unlock the device.
Swipe card: These simple but effective locking systems are a familiar sight in hotels, offices, and public buildings. The user inserts or swipes a key card into an electronic lock to access a secured doorway.
Proximity/contactless readers: The user carries an RFID-enabled card or key fob, which they hold close to the device to unlock the secured area. These are a more versatile and secure alternative to numerical keypads. The latest wireless technology can read the token or card at a range of up to 2.5m, meaning that the authorised user doesn't even have to take the fob out of their pocket.
Fingerprint keypad: Using similar technology to smartphone fingerprint recognition, these keypads are programmed to respond to particular fingerprints – normally a thumb or index finger. As everyone's fingerprints are unique, these are one of the most secure options for access control systems.
Retina scan: An access area is unlocked on recognition of a retina scan. These devices use the same recognition principles as fingerprint scans, creating a secure and completely customisable solution. New users can be added, stored and deleted as required.
Each access control system we supply can be completely configured to your needs. From your user dashboard you can monitor user access, grant or deny permissions, and securely store personal information (e.g. fingerprint scans) in a safe, cloud-based environment.
Speak to us
At Cityfire & Electrical, we serve customers in various sectors across Birmingham and the Midlands. We recognise that access controls play a vital role in fire safety and general workplace security. There are a variety of options available, so to discuss your needs in person, why not give one of our engineers a call today on 01675 437337. Alternatively, please click here to send us a message, and someone will get back to you as soon as possible.