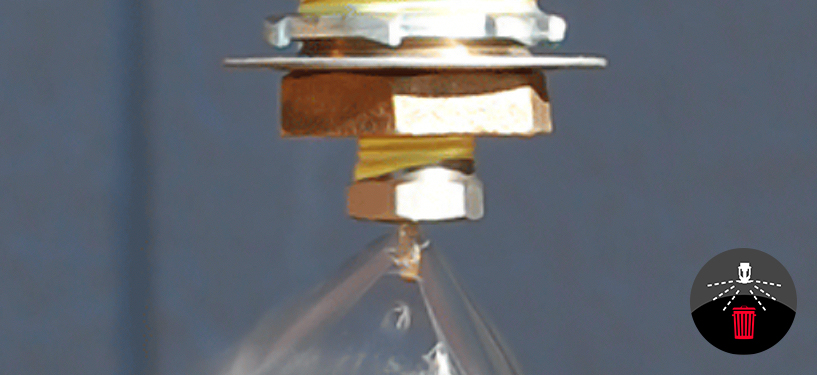 Proposal For Watermist Fire Suppression Systems For Solihull Housing Bin Rooms
Dear Paul,
Thanks for the opportunity to provide a quotation for the provision of replacing the Watermist fire suppression systems for Solihull Housing.
Following our recent surveys of the 37 bin rooms on behalf of Solihull Housing, the details of which are enclosed on the DVD provided, we have pleasure in providing our quotation for the replacement systems as discussed.
Outline Design Criteria – Subject to AHJ approval through consultation
The existing bin room fire suppression systems are at the end of their usable life and replacement is considered the most cost-effective approach for a number of reasons highlighted from the recent surveys.
Our proposal is based on standardising the systems using watermist, this is a proven method of fighting fires without the collateral damage associated to traditional sprinkler type systems, this will involve designing each bin room pipework and nozzles criteria specifically around the available pressure and flow using computer generated hydraulic calculations and isometric drawings.
All pipework will be required to be replaced with non-ferrous steel (stainless Steel) in order to prevent corrosion forming internally and impeding the performance of the nozzles. The provision of a backflow device and filter strainer will be allowed for along with a pressure test and flow point necessary to comply with British Standards 8489 pt1.
Although the existing fire alarm control panels are functional, they do not comply to the requirements of BS 8489, which specify the control panel for fire suppression systems must be certified to BS 7273. These panels are specifically approved for use in extinguishing systems as they have additional features that are critical to the integrity of the suppression system. Features that are required are:
Dedicated control circuits providing monitored activation of solenoid valves
Monitored circuit inputs for flow switch confirmation signals
Co-incidence fire detection zones, preventing false alarm activations.
Our initial specification based on providing the same level of protection as the existing systems, bespoke pipework and nozzle layouts may differ in each room dependant on the locations of the individual bins, however the coverage is based on the watermist discharging into each waste bin accordingly. We have not allowed for the replacement of smoke & Heat detectors or the sounder strobe units
Enhanced Protection
There is an option at this stage to consider enhancing the protection of the bin room compartmentation by installing additional thermally activated mist head/s to the ceiling, which will activate remotely of the bin room system should the temperature in the room exceeds a set parameter, the nozzle/s would be connected directly to the fire main, this may be a consideration should the following occur:
Failure of the primary system due to catastrophic disaster
Mains power failure, solenoid damage etc
Bins not replaced in the designated area and therefore not protected by the mist nozzle discharge
Waste materials outside of the bin ignites
Should you wish to pursue this option we would be pleased to provide a quotation.
Enhanced Protection System Schematic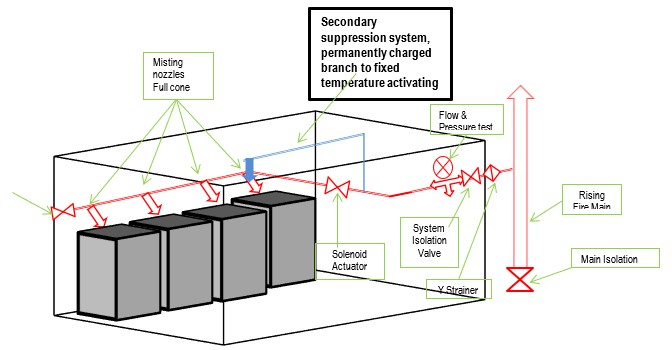 Mechanical Protection
During the surveys, it was apparent the pipework and components have become damaged over time, this is mainly due to mechanical impact from the removal and replacement of the bins on a regular basis, we would recommend providing mechanical protection for vulnerable pipework to prevent this damage from occurring in the future.
The provision of galvanised steel channel which is mechanically fixed to the compartment structure to provide a protective tunnel for the pipework. We have provided a quotation for this below.
Materials Schedule
| | |
| --- | --- |
| Watermist Systems Proposal | BIN ROOM |
| Bin Room Watermist Fire Suppression Systems | |
| Strip out existing fire system | 1 |
| Extinguishing fire control panel BS 7273 | 1 |
| Sealed lead acid type Backup batteries | 2 |
| Fireproof cable to control panel 230v | 1 lot |
| Full bore flow test point with Gauge & Flow switch | 1 |
| Stainless steel backflow control valve | 1 |
| Stainless steel non-return valve | 1 |
| Stainless steel Y filter | 1 |
| Solenoid valve 24v | 1 |
| Fireproof cable to solenoid valve | 1 lot |
| Stainless steel pipework & Associated fittings | 1 lot |
| Full cone watermist nozzles | As required |
| Tube clamps & Backplates | As required |
| Key operated fused spur units | 1 |
| Discharge sustain/Isolate switch | 1 |
| FP200 (or equiv) 1.5mm fire cable | 1 lot |
| Fixings | 1 lot |
| Pipe insulation | As required |
| Mechanical protection channel | 3mts |
| labour | As required |
Quotation
To remove the existing and provide the as described fire suppression system, inclusive of all labour, parts, plant & equipment.
Commissioning & handover will be offered inclusive of this schedule
Manuals and log books will be provided
Exclusions:
Full steam clean and disinfecting of the bin rooms prior to undertaking works
Replacement smoke/heat detectors as they are maintained under contract
Summary Cost Per Bin Room System
Cost per system (excludes replacement fire control panel) – £3,990.00 each plus VAT
Cost per system to replace fire control panel & Ancillaries – £980.00 each plus VAT
The price quoted is fixed for a period of 60 days from the date of issue; thereafter, SFE Ltd reserves the right to re-propose.
Payment Terms
Strictly 30 days from invoice- each bin room to be invoiced separately
Terms and Conditions
Our quotation is subject to Systec Fire Engineering Ltd Standard Terms and Conditions of Sale, a copy of which are available upon request. It is also company policy to undertake of a satisfactory credit check prior to the acceptance of any order. Any acceptance to this offer is conditional on an acceptable credit rating being approved by Systec Fire Engineering Limited.
Warranty
All items are covered by our standard warranty period of twelve months from the date of commissioning, or supply whichever is the sooner, in respect of defects in components or workmanship. This warranty covers repair or replacement, at our discretion, during normal working hours. This warranty is subject to all equipment supplied being serviced in accordance with the manufacturer's recommendations.
Installation Notes
Access- at this time we have assumed all cabling and equipment can be mounted at a height that is accessible by steps or ladders safely, if this proves not to be acceptable then access is to be provided by others
Containment and Fixings – We have allowed for surface fixings of all cabling.
Drawings, O&M manuals and Training – at this time we have allowed 1 x Electronic and 1 Printed copy of the drawings and O&M manuals. At this time, we have allowed 2 hours for staff training.   
Unrestricted and free access to areas we are required to carry out the installation.
The working hours allowed for in this contract are normal working hours Monday to Friday 8am – 5pm.
All welfare, main power supplies for tool operations etc. are by others
CDM regulation and if applicable we do not operate as principle contractor.
Further Information by Others
Any future changes in the arrangements shall be informed as soon as possible.
Client to advise practical completion for project and date for commissioning which has to be agreed by all parties concerned.
Site Electricity for the use of power tools etc.
Implementation Plan
To be coordinated with our project team and the clients project team upon receipt of order. At the time of writing this proposal we can provide all goods quoted above on a 20-working day supply from receipt of order. If however critical items become unavailable we reserve the right to find alternative products having sought the clients approval
We trust this specification and proposal meets with your approval, should you require further information please don't hesitate to contact me.